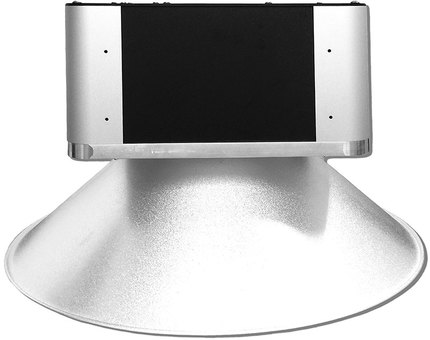 LED Max Power 900W 、Max Consumption Power 620W、64000 lumens 、937 ppdf/distance 70cm​
---

| | | |
| --- | --- | --- |
| | HLP 600 Grow Light can be substituted for both HPS and MH. The most exciting thing is electricity consumption of HLP 600 is only half of them. It is programmable that simulates spectrum of the vegging as well as the blooming. It also randomly adjusts intensity, time or spectrum according to various environmental factor. With this feature, it helps to accomplish maximum crop yield and minimum electricity consumption. | |
---
| | |
| --- | --- |
| | iOS and Android smart phone and Pad supported with one-to-one wireless control, HLP 600 comes with the built-in multimode spectrums that includes spring, summer, autumn MH, HPS and power saving modes that simulate variation from sunrise to sunset along with setting power on or off. The cycle setting and auto programming for spectrum, intensity and duration can be set up to 180 days cycle that covers different phases from planting, growing, blossoming and harvesting. |
---
| | |
| --- | --- |
| | You may control each lamp in your office or at any places while traveling via HME exclusive lighting control system. It allows controlling and setting the lamp according to different vegging or you could also control 1,000 lamps at the same time. You could freely monitor the lamps at any place around the world and receive real time monitor report. The built-in access control setting definitely make sure the system much securer. |

---
---
Impeccable PAR Value

HLP 600 generate at least 511ppdf of PAR Value at electricity consumption around 450 – 620W. In the center area of the lamp even generate up to 937ppdf.
As HLP 600 provide real full spectrum, 511ppdf illumination is good enough for performing all photosynthetic pigment efficiency up to 90%. Meanwhile, 670ppdf illumination is able to perform at 100% efficiency including chlorophyll a, chlorophyll b, carotenoids, lutein and anthocyanin.
---
HLP 600 comes with the unique copper heat cut LED circuit board, this allows the integrated light sources rapidly lead the heat to radiating system that equipped with radiating fan. It's not only performing higher color rendering and equality, but also providing reliable quality with longer service life and lower attenuation.
HLP 600 is designed to comply with LM-80 standard issued by USEA and all the LED components are LM-80 test passed. Light attenuation is less than 10% after continuous operating up to 56,000 hours on the condition that ambient temperature at 30°C (86°F)and LEDs' junction temperature below 85°C(185°F).

---
Specifications
LED: ​210 pcs
(3W/4W/5W,CREE、OSRAM)
LED MAX Power: 916W
Consumption Max Power: 620W
Adapter: Input: 85~264VAC
Output: 48V/15.7A

Main Body
Dimension (L*W*H)
306 X 310.2 X 164 mm
(Not include reflector)
Reflector (L*W*H)
140 X 495 X 495 mm